Which Path Do You Take
Posted by Duane Fouts on Wednesday, May 1, 2019 at 12:01 AM
By Duane Fouts / May 1, 2019
Comment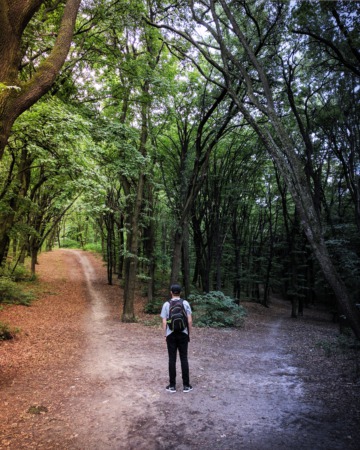 Photo by Caleb Jones on Unsplash
So.... you have decided to explore the idea of selling your home.
That is great and let me just say, I have a lot of empathy for you. Many times the decision to sell is not an easy one, often times the decision coincides with significant life changes, some pleasant, some not so pleasant, which adds to the stress and anxiety for you and your family.
In addition, it often will seem that much of the sale process is out of your control, a feeling that few of us like. When it comes to major life changing decisions, many of us are reluctant to willingly give up that level of control to others, especially to those that we do not completely trust.
So let me attempt to give you a path you can take that will hopefully reduce some of the stress and anxiety and help keep you in control of one stressful part of every home sale.... the home inspection!
Virtually all residential resale transactions in Arizona have some sort of buyer due diligence period, commonly 10 days, during which the buyer will hire one or more home inspectors to evaluate the home condition. This period can be excruciating for the seller... wondering what the inspector(s) are going to find, what the buyer is going to ask to be repaired or replaced, will the buyer cancel the contract due to the findings of the inspector(s)? So many unknowns. So much out of the Seller's control!
One thing I can assure you... during the buyers due diligence period anything that is wrong with your home will be revealed. We also know from experience that the buyers home inspectors tend to assume a worst case scenario when evaluating a home.
So let me suggest a way to put you, the Seller, back in control of of the due diligence process.
It is always stressful to deal with unplanned and unwelcome costs of meeting buyers' requests for repair demands during the escrow process. To help minimize that stress, consider ordering a pre-listing home inspection by a licensed home inspector.
Part of every Sellers desire is to maximize the sales price of their home. In order to accomplish this, a best practice, is to get the home in optimal physical condition prior to offering it for sale. Conducting a pre-listing home inspection gives the seller advanced knowledge of potential issues that a buyers home inspector may discover, as well as an opportunity to address any issues that seller chooses to address prior to the buyer doing their due diligence.
In addition, should the seller desire to make some repairs, obtaining a pre-listing inspection allows you to schedule necessary repairs outside the confines of the time-frames normally contained in the purchase contract. Which allows them ample time to obtain bids, choose a contractor and deal with the inevitable delays in getting the work completed, without the stress of contract deadlines looming!
There also is the universal truth that seems to raise its ugly head if the Seller waits for the buyer to do their own due diligence... and that is... repairs undertaken to meet contractual deadlines almost always tend to cost more! Why? Because, it is just the way it is.
So you can see why I believe that if Sellers choose to get a pre-listing home inspection, it can give the Seller back some of the control over the buyer due diligence process. They can provide copies of the inspection reports to the buyer, include documentation of any repairs completed and negotiate from a position of strength during the buyer due diligence negotiations. No longer are they at the mercy of the buyers home inspection.
If you would like a no obligation consultation regarding the sale of your home, please call or text Duane Fouts 480-470-3346 or email me at [email protected]
Duane Fouts is the Owner/Designated Broker of Above and Beyond Realty in Glendale Arizona with over thirty years of real estate experience.